Digital Heroisms is an online conference exploring Fantasy, the digital and the concept of heroism in collaboration with Press Start Game Studies journal, the Games and Gaming Lab based at UofG College of Arts, the University of Glasgow School of Critical Studies and Game Studies at Glasgow. The event was the first of its kind, taking place in the free MMORPG Runescape, and a Discord server which served as a community hub.
The opening address was written by Gabriel Elvery and Francis Butterworth-Parr.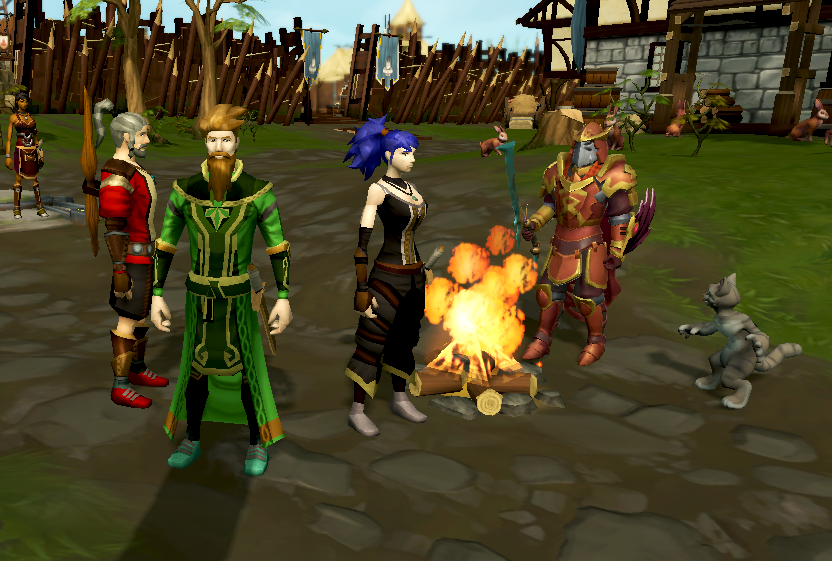 The Organising Committee
Co-chair: Gabriel Elvery
Gabe is researching the effects of Fantasy in single-player, narrative-driven video games. Their project will explore whether its effective use facilitates affective engagement with digital fantasy worlds and whether this digital affect has the potential to impact the emotional wellbeing of players in their off-screen lives. Gabe's research will develop a new kind of reader reception theory by investigating whether literary analysis of video games has practical applications and corresponds with the experiences of players. The end result will make available a fuller understanding of the affordances, implications and impact of the Digital Fantastic.
More about Gabe's work can be found on her personal website and twitter.
Co-chair: Francis Butterworth-Parr
Francis' research uncovers and activates video game metaphors as they begin to populate the contemporary novel from the 1980s onward. This inverts the usual discourse that serves the faultline between literary and game studies by seeking to understand how video gaming as mode of experience, cultural artefact and idea has transformed the way in which novelists represent contemporary life – in opposition to how games have co-opted the literary. In agreement with Roger Caillois' argument that 'a civilization and its content may be characterized by its games', Francis' research looks to literature's deployment of techno-ludic materials, cultures and ideas to position the video game as a vital medium through which to understand late 20th-21st century civilization. In doing so, Francis will analyse the relationship between novels and video games, investigating to what extent the novel succeeds when representing a new, successful and controversial technology and explore what literary resources the novel uses when it deploys the video game metaphorically.
Francis can be found at academia.edu
Jack Parkinson
Jack is a Computing Science research student with a focus on education, learning and pedagogy. His current work is on spatial ability and its influences on programming.
More information about Jack can be found on his university research profile.
Monica Vazquez
Monica is a first-year PhD researcher at the University of Glasgow, columnist and published author. She studies Immersive Narratives, researching the difference between Fantasy and Reality in Literature and VR.
Monica's research profile can be found here.